"Cocer". 1. "Hacer comestible un alimento crudo sometiéndolo a ebullición o a la acción del vapor". 2. "Someter pan, cerámica, piedra caliza, etc., a la acción del calor en un horno, para que pierdan humedad y adquieran determinadas propiedades". DRAE.

«Cocer» in Spanish means both cooking any food by boiling it and making anything by putting it in a oven or kiln (for example, ceramics).
Se dice que "en todos sitios cuecen habas" (en el sentido de la primera acepción). En La Rambla también, claro. Pero si algo cocemos mucho en La Rambla que nos diferencia de ese "en todos sitios", es cerámica (en el sentido de la segunda acepción). 
La Rambla (Cordova, Spain) is known for the second meaning of Cocer, this is, for firing ceramics and selling them all around the world.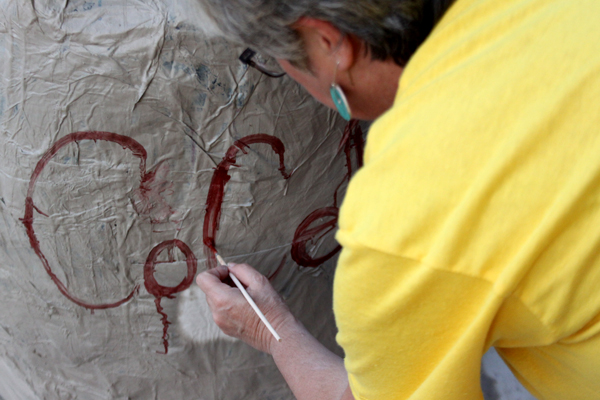 Hace ya unos tres años, un grupo de amigos que se unían por la cerámica, entre los que tengo la suerte de estar, decidimos hacer estos encuentros más asiduos, e incluso llevarlos a cabo a modo de exhibiciones al público. Así nació lo que llamamos, en un principio por imposición del "protocolo" a la hora de anunciar una actividad, el colectivo cerámico de La Rambla. De esas reuniones amistosas e "informales" surgieron colaboraciones en la organización de talleres de alfarería y cerámica (de torno, de cuerda seca…), talleres infantiles de modelado en barro, exhibiciones de Raku, etc. Pero además surgieron muchas ideas, necesidades, debates, opiniones, proyectos e incluso sueños alrededor del aspecto cultural, contemporáneo, educativo, artístico e incluso turístico de la cerámica de La Rambla. Y así, cocción tras cocción, surge, ya hace siete años, la idea de sentarse alrededor de una mesa al "fresco" de una terraza rambleña en pleno septiembre y constituir una asociación. Los fines son estudiar, conocer e investigar las diferentes técnicas cerámicas, divulgar la cerámica de La Rambla como fuente de cultura, educación y riqueza dentro de nuestra localidad, dar a conocer las posibilidades del aspecto contemporáneo y artístico  de la cerámica en nuestra ciudad alfarera, y promocionar La Rambla como cuna y núcleo de producción artística de cerámica en España y fuera de ella. Los medios, son muchos. Hojas enteras de apuntes e ideas que hemos ido desarrollando con el tiempo, poco a poco, con paso firme, y con la ilusión del primer día, y que esperamos poder seguir haciéndolo muchos años más.
About three years ago, a group of friends who got together for ceramics, among whom I am lucky enough to be, decided to make these meetings more frequent , and even carry them out as exhibitions to the public. Thus, it was born what we called initially due to the imposition of «protocol» when announcing an activity, the «Colectivo Cerámico de La Rambla»(La Rambla ceramics group). From these friendly and "informal" meetings, collaborations arose in the organization of pottery and ceramics workshops, children's clay modeling workshops, Raku exhibitions, etc. But in addition, many ideas, needs, debates, opinions, projects and even dreams arose around the cultural, contemporary, educational, artistic and even tourist aspect of the ceramics of La Rambla. And so, firing after firing, seven years ago, the idea of sitting around a table at a terrace in La Ramble in the middle of September and founding an association came true. The purposes are to study, learn about and investigate the different ceramic techniques, disseminate La Rambla ceramics as a source of culture, education and wealth within our town, publicize the possibilities of the contemporary and artistic aspect of ceramics in our potter's city, and promote La Rambla as the cradle and hub of artistic ceramic production in Spain and abroad. The means are many. Whole sheets of notes and ideas that we have been developing over time, little by little, with a firm step, and with the excitement of the first day, and that we hope to continue doing so for many more years.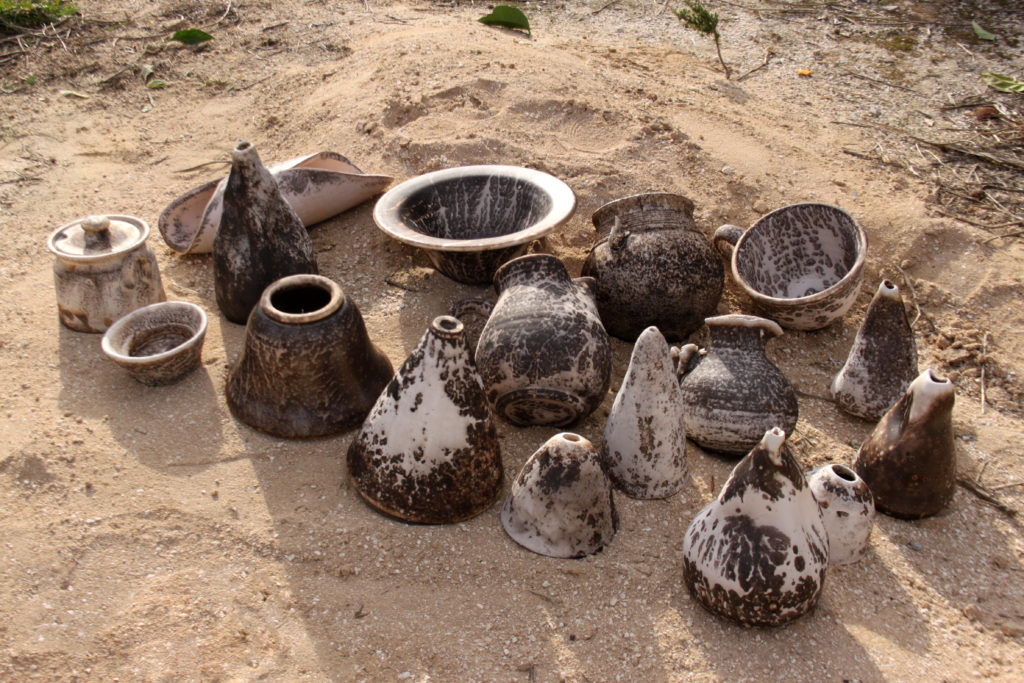 Curso de la técnica de cuerda seca organizado e impartido por CoCeR. / Cuerda Seca technique course organized by CoCeR

Talleres infantiles de cerámica organizados por CoCeR para inculcar a los niños los valores de la artesanía. / Ceramics workshops for children organized by CoCeR with the aim of promoting the values of craftmanship in them

Participación en la actividad La Rambla a Pie, en la ruta turística sobre la cerámica organizada dentro del programa de APTITUDES / Collaboration with La Rambla a Pie, a guided tour about the ceramics from La Rambla.
Hasta ahora, hemos hecho un poco de todo: cursos de distintas técnicas de decoración cerámica impartidos por las ceramistas locales Lola Guerrero y Rafi Castro y por ceramistas de fuera como Miguel Molet o Alberto Bustos, cursos de torno que imparte Miguel Ángel Torres Ferreras; talleres infantiles de cerámica para inculcar el valor del oficio a los más pequeños,  colaboraciones con festivales de arte contemporáneo locales como APTITUDES en La Rambla o ArtSur en La Victoria; organizar el I Concurso de Redacciones "Alfarería de La  Rambla", gracias a la colaboración de los dos colegios locales, formar parte del comité organizador de ENBARRO – la exposición de alfarería y cerámica más antigua de España –  , dar charlas y talleres en escuelas de arte y llevar a cabo exhibiciones experimentales y exposiciones propias y de otros ceramistas, individuales y colectivas en nuestra localidad. Un gran hito en nuestro recorrido fue traer a La Rambla la V Quedada Cerámica del "Foro Manises", en la que ceramistas de toda la geografía mundial se encuentran en un punto de España para, además de pasar unos días estupendos, impartir talleres, dar charlas, exhibiciones y trabajar conjuntamente.
So far, we have done a bit of everything: courses on different ceramic decoration techniques taught by local potters Lola Guerrero and Rafi Castro and by outside potters such as Miguel Molet or Alberto Bustos, potter's wheel workshops taught by Miguel Ángel Torres Ferreras; ceramic workshops for children to instill the value of the craftmanship in the little ones, collaborations with local contemporary art festivals such as APTITUDES in La Rambla or ArtSur in La Victoria; organizing the 1st Writing Contest «Pottery of La Rambla», thanks to the collaboration of the two local schools, being part of the organizing committee of ENBARRO – the oldest pottery and ceramics exhibition in Spain -, giving talks and workshops in art schools and carrying out experimental firing exhibitions and individual and collective exhibitions of our own and of other potters in our town. A great milestone in our path was to bring to La Rambla the 5th Ceramics Meeting from "Foro Manises", in which potters from all over the world meet at a point in Spain to, in addition to spending some great days, give workshops, give talks, exhibitions and working together.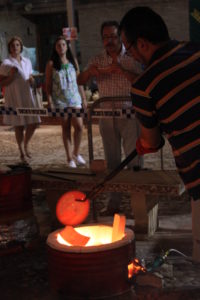 CoCeR es un todo, un cúmulo de puntos de vista, conocimientos, inquietudes, ideas, necesidades, preocupaciones, estilos, técnicas y personalidades de sus miembros.
CoCeR is a whole, a collection of points of view, knowledge, concerns, ideas, needs, styles, techniques and personalities of its members.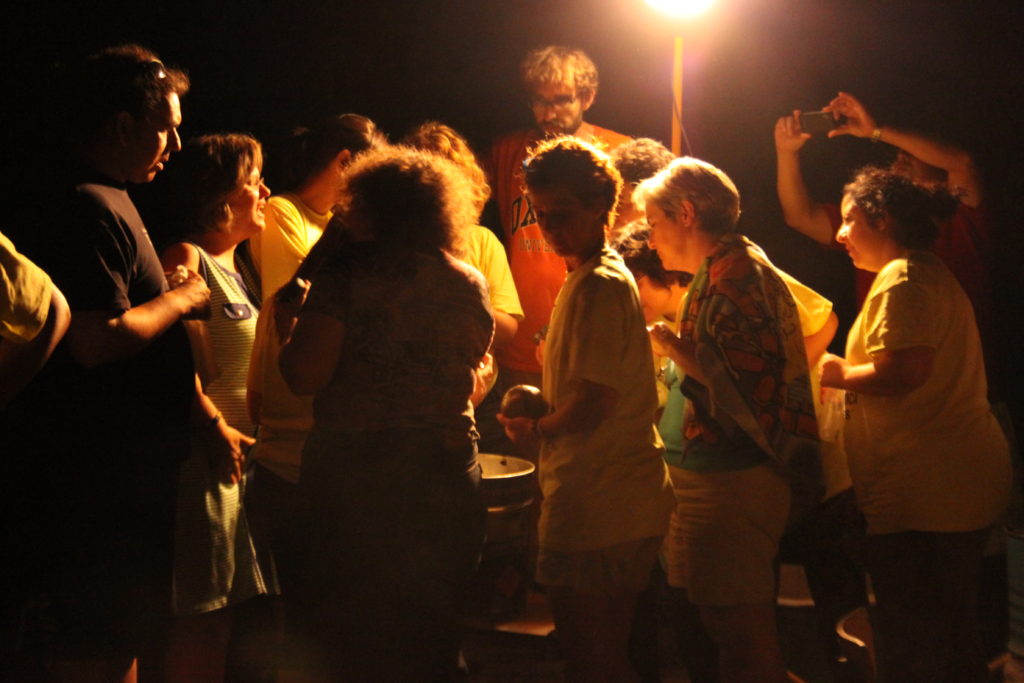 ¿POR QUÉ ERA NECESARIO EN LA RAMBLA? / WHY?
La Rambla se conoce en la región como Ciudad Alfarera. Uno de los iconos de esta ciudad es el Botijo de La Rambla. Símbolo de su tradición alfarera, se ha hecho tradicionalmente en los alfares locales con el barro que se obtiene de las canteras que se encuentran en este pueblo. Los tejares, las fábricas de ladrillo y la realización de este botijo y otras piezas tradicionales, unidos al hecho de contar con canteras de barro naturales en las tierras sobre las que se asienta esta ciudad, son los factores que propiciaron el gran tejido artesanal actual que hace que hoy hablar de La Rambla sea hablar de cerámica, y que la Junta de Andalucía la haya reconocido como Zona de Interés Artesanal de Andalucía.
La Rambla is known in the region as «the Potters' Village». One of the icons of this city is the «Botijo de La Rambla» (traditional handmade ceramics water cooler). Symbol of its pottery tradition, it has traditionally been made in the local pottery studios with the clay obtained from the quarries found in this town. The tiles, the brick factories and the realization of this jug and other traditional pieces, together with the fact of having natural clay quarries in the lands on which this city sits, are the factors that led to the great current artisanal business fabric that makes talking about La Rambla today is synonym with talking about ceramics, and that the Andalousian Board has recognized this villafe as an Area of Artisanal Interest of Andalusia.
Cuenta con la Exposición de Alfarería y Cerámica más antigua de España, que se celebra desde 1926, ahora llamada ENBARRO, y que está declarada Zona de Interés Turístico Regional. La celebración de esta exposición desde tan lejana época le valió al ayuntamiento de la localidad el Premio Nacional de Cerámica en el año 2011. Esta exposición muestra cada año los productos de muchos de los talleres y ceramistas locales y nacionales, de asociaciones y colectivos de cerámica de La Rambla y de todo el mundo. Además, de forma simultánea, se organizan concursos internacionales de diseño, decoración y realización de piezas cerámicas.
La Rambla has the oldest Pottery and Ceramics Exhibition in Spain, which has been held since 1926, now called ENBARRO, and which has been declared an Area of Regional Tourist Interest. The celebration of this exhibition from so long ago earned the town council the National Ceramics Award in 2011. This exhibition shows every year the products of many of the local and national ceramics and pottery studios, ceramic associations and groups from La Rambla and around the world. In addition, simultaneously, international contests for the design, decoration and production of ceramic pieces are organized.
Muchas de las piezas ganadoras de estos concursos pueden verse en el Museo de la Cerámica de La Rambla, piezas de ceramistas nacionales e internacionales tan importantes como Miguel Molet o Simcha Even-Chen entre otros. Son muchos los ceramistas locales que han ganado estos concursos, lo que muestra la calidad y la valía de la artesanía y el arte local. También puede hacerse un recorrido por la historia, el presente y el futuro de la cerámica de nuestro pueblo en este museo.
Many of the winning pieces of these competitions can be seen in La Rambla Ceramics Museum, pieces by national and international potters as important as Miguel Molet or Simcha Even-Chen among others. Many local potters have won these competitions, showing the quality and value of local art and crafts. You can also take a tour of the history, the present and the future of the ceramics of our town in this museum.
La Rambla tiene fama de haber tenido siempre una industria cerámica de subsistencia, puramente comercial. Sin embargo, en el último siglo se ha ido creando un patrimonio artístico, cultural y turístico que creemos que debe protegerse, enseñarse y difundirse.
La Rambla is famous for having always had a subsistence ceramic industry, purely commercial. However, in the last century an artistic, cultural and tourist heritage has been created that, in our view, should be protected, taught and promoted.