Mi padre, Miguel Ángel Torres Ferreras, se metió por primera vez en «la rueda» (el torno alfarero), a los 10 años de edad. Era muy normal en los niños de aquella época en La Rambla, mi pueblo, ciudad alfarera.
My father, Miguel Ángel Torres Ferreras, learned how to shape clay on a potter's wheel at the age of 10. It was the normal thing among children from La Rambla, my hometown, in those times.
Mi madre, Mari, aprendió a pintar cerámica en los talleres de los alfareros de la época, entre ellos su tío.
My mother, Mari, learned how to decorate ceramics in the pottery studios of La Rambla, his uncle's among others, when she was young.
50 años después, Torres Ferreras es el negocio familiar: un taller de alfarería 100% artesanal que ha sido la causa principal de que me dedique a la cerámica y que me inspira día a día.
50 years later, Torres Ferreras is my family business: a 100% handmade pottery studio which was the main reason why I decided to work in ceramics and which inspires my every day.
¿Cómo me lanza Torres Ferreras al mundo de la cerámica? / How does Torres Ferreras initiate me in ceramics?

Ni que decir tiene que la cerámica está en mi vida desde que nací. Cualquiera puede pensar que dedicarme a la cerámica siempre ha estado en mis planes, que he asumido los conocimientos desde pequeño y no hay más. Pero no es así. Siempre he sido creativo, pero mi pasión de niño era pintar. Torres Ferreras me ha enseñado desde pequeño los procesos, los tiempos, las herramientas… Me ha inculcado un estilo de hacer cerámica tradicional con delicadeza, con acabados cuidados, con perfeccionismo. Como cuento en mi biografía, mi adolescencia y mis estudios van por otros derroteros distintos a la cerámica. Pero es a la vuelta de mis estudios cuando encuentro a mi padre trabajando en su taller con un concepto aún más artesanal, con un material con muchísimas más posibilidades. Y son mis padres los que me llevan de visita a la Escuela de Arte Dionisio Ortiz y me acercan a los alumnos de cerámica, y en este momento, el mundo de la cerámica entró por mis ojos y ya no salió.
At this point, it is crystal clear that ceramics have been part of my life since I was born. Anyone could think that being a ceramicist has always been in my plans. But this is not like that. I have always been very creative, but my real passion during my childhood was painting. Torres Ferreras has taught me the techniques, the times, the tools… My family has instilled in me a way of making traditional ceramics with delicateness, care and perfectionism. As I tell in my bio, my teenage and my degree go in different directions from ceramics. However, when I come back to my hometown from abroad at the end of my studies, I find my father working ceramics with a more artisanal work and with a different material with many more possibilities. It is my parents, who show me the Art School Dionisio Ortiz in Cordoba at that moment. There, I met students of ceramics degree and it was then that ceramics settled in my life.

TORRES FERRERAS y yo.TORRES FERRERAS and I.
Desde aquel momento, yo vi en Torres Ferreras, y en la cerámica de La Rambla en general, un diamante, no en bruto, sino acabado, pero que hay que contar al mundo que lo tenemos.
From that moment on, I saw in Torres Ferreras, and in ceramics of La Rambla in general, a diamond, not an uncut one, but an unknown one.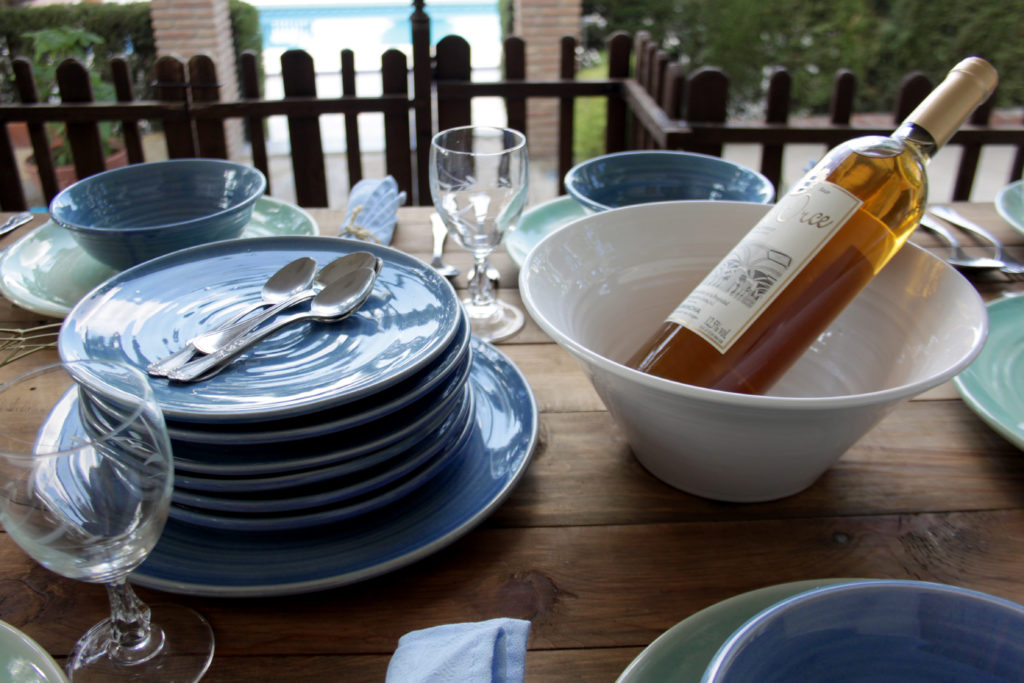 En Torres Ferreras aprendí las bondades y las canalladas del gres y la alta temperatura. La investigación y el diseño antes de crear colecciones de menaje y vajillas. La ventaja de la artesanía a la hora de crear productos personalizados para el cliente. He aprendido a crear sinergias y a colaborar con otras disciplinas gracias al trabajo mano a mano con chefs y restaurantes.
In Torres Ferreras I learnt the good and bad parts of stoneware and high temperature ceramics. The process of research and design before creating pieces of tableware. The advantage of craftmanthip as the perfect way to create custom-made products. I have learnt to make joint efforts and collaborate with other disciplines like cuisin or fashion.
Lo que puedo aportar yo, sin dejar de aprender, es:
Creación de catálogos y material gráfico.
Fotografías de producto y lookbook.
Perfiles en redes sociales y gestión de los perfiles.
Creación y actualización de la web y creación de contenidos para favorecer el posicionamiento en buscadores.
Traducción, contenido bilingüe.
Comunicación, imagen y publicidad en general.
Creación y gestión de tienda online en Córdoba Shopping.
What I could provide to Torres Ferreras was:
Creation of catalogues and graphic material.
Photo and lookbook.
Social networks management.
Content creation.
Translation.
Communication and marketing in general.
Creation of online shop in Cordoba Shopping.
Pero sobre todo, Torres Ferreras me ha enseñado a entender el pasado, presente y futuro de la artesanía, a conocer su valor patrimonial, a experimentar la importancia del relevo generacional, a ser responsable y coherente con tu trabajo, a no tirar los precios y a respetar la dignidad de los productos propios, y de esta manera indirectamente de los de la competencia.
But most of all, Torres Ferreas has taught me to understand past, present and future of craftmanship, know its patrimonial value, experience the importance of the importance of generational replacement, be reliable and coherent with my job, not to low prices for no reason and respect the dignity of my own products, and, in this way, of the ones from my competition.